Free Barbie Patterns and How Tos
When I was learning to sew, my favorite projects were Barbie clothes. Use my vintage Barbie patterns to create your own looks. You can find simple to complex patterns for Barbie's clothes. I am supplying scanned copies of a good variety of patterns for Barbie. These tiny clothes can be challenging, but only require small amounts of fabric while supplying a great deal of satisfaction for seamstresses of all ages.
The first project is a simple dress with center front seam, round neck, elbo length sleeves, and hemmed at the knee. You can change the sleeve length or hem length, or even the width of the hem at the bottom. All in time though. For the pattern and instructions go click on the link below.
---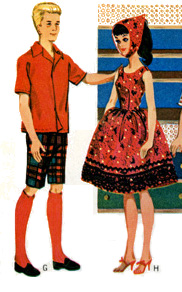 The second project is a dress with a dart-fitted bodice and gathered skirt. The dress is sleeveless and comes with a tiny bandana that is easy to make with a small amount of machine and hand stitching. For the pattern and instructions click on the link below.
---

Next is a simple a-line skirt that can be made in a light cotton twill like the example above is. Cotton calico or plain cotton, cotton or cotton blend knit would work as well. I made this pattern out of a straight skirt pattern for Barbie.
---

An easy top and pants for Barbie. I made mine of cotton/poly knit for the top and black broadcloth for the pants.
---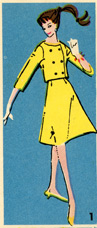 A beautiful pink double-breasted jacket and a-line skirt for Barbie. I made mine of pink cotton shirting.
---


Cute a-line dress for Barbie, this one made in a light cotton print.
---
Use the same bodice pattern for both of these easy to make dresses for Barbie.
Barbie Blue Dress or Sun Dress with Lace Skirt
---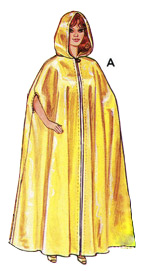 Beautiful Cape with Hood for Barbie

---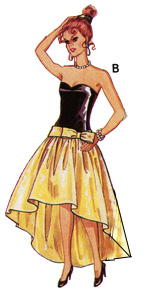 Make this beautiful strapless evening gown to go with the Cape with hood above!
---

Here is a pattern for a cute top and ruffled skirt for Barbie
---

Make Barbie a comfortable set of Vest and Capris
If you like the top under the vest you can find that pattern at Barbie's Top and Skirt
Happy Sewing!
---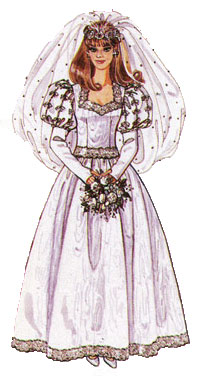 Barbie's Wedding Dress, Veil, and Gloves
---