This is an easy dress to make for Barbie. The jumper goes with this Long Sleeved Top, or you can use the Short Sleeved Top for warmer climates. Leave the pockets off for an easier project.

The pattern will print on one page: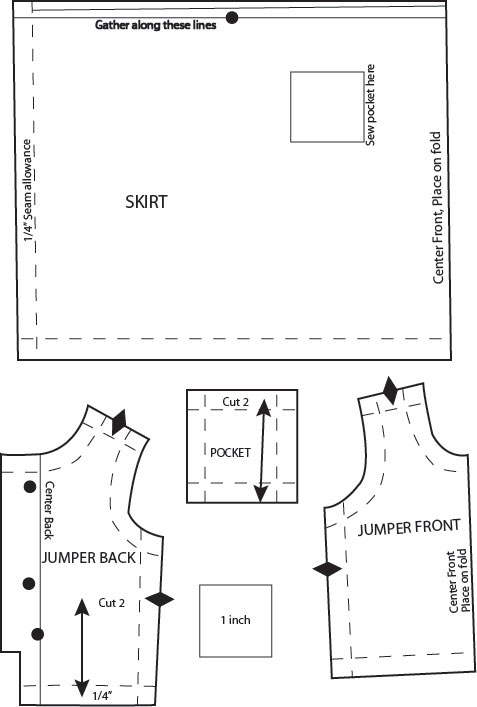 Instructions for saving and printing jpg or pdf files are here.
Pdf file of Barbie's Jumper
Instructions for Sewing Barbie's Jumper
1. Stitch JUMPER FRONT to JUMPER BACK at shoulders, RIGHT SIDES TOGETHER:

2. Finish neck and armhole edge of jumper:

3. Stitch front to back at sides:

4. Press under 1/4″ on upper edge of pocket and stitch hem in place. Press under 1/4″ on sides and lower edge:

5. Pin pockets to positions on SKIRT. Stitch close to sides and lower edge of pockets. Finish lower edge of skirt. To gather upper edge of skirt, machine baste 1/4″ and 1/8″ from raw edge: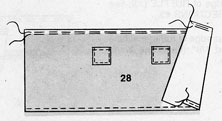 6. Pin skirt to bodice, RIGHT SIDES TOGETHER, matching center fronts, circles to side seams and having back edges even. Pull up bobbin threads and adjust gathers to fit. Hand baste: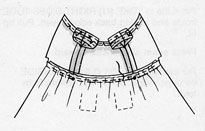 7. Stitch center seam from lower edge to circle: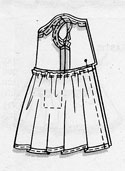 8. Finish back opening edges with two small snaps: