Separates to make for Barbie. Good fabrics would be cotton and blends, gingham, pique, denim. I would say keep to the lighter weight fabrics for these separates. Knit fabrics will also work. I made this outfit a few times. For practical Barbie! Shorten or lengthen the culottes for different looks.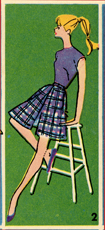 Here are the pattern pieces: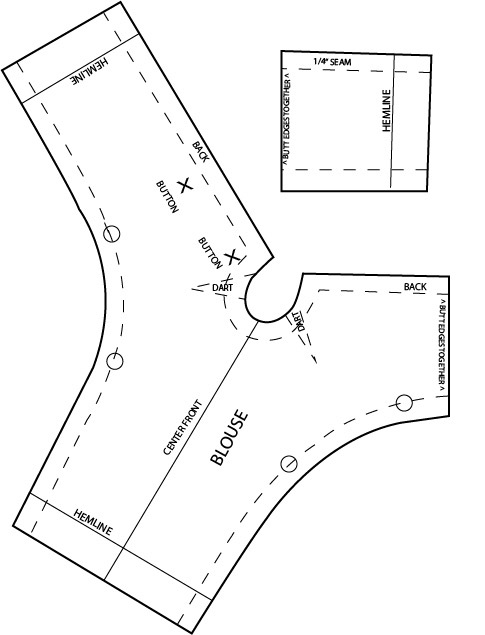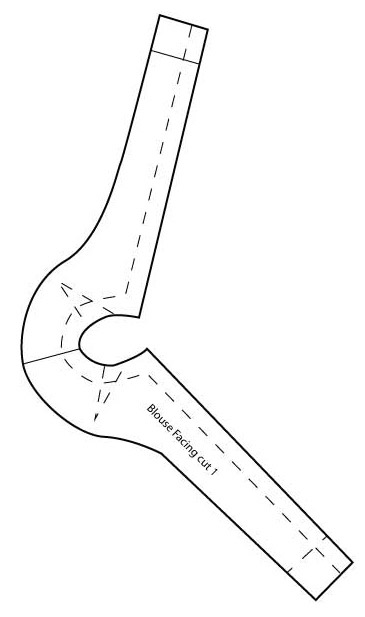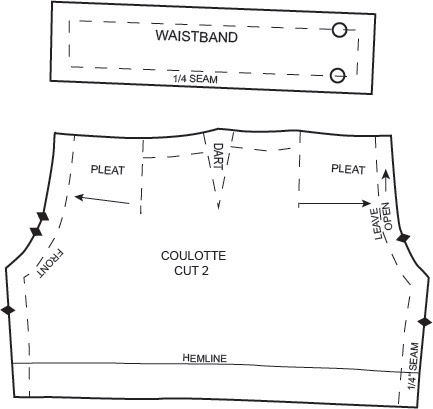 Instructions for saving and printing jpg or pdf files are here.
Pdf file of Barbie's Blouse and Culottes
Instructions for Sewing Barbie's Blouse and Culottes
1. BLOUSE sew darts at shoulder/neck right sides together:

2. Sew facing to neck and back edges with right sides together. Clip curves, trim corners: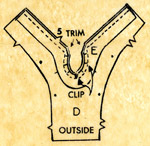 3. Turn facing to right side. Press. Slip stitch facing in place: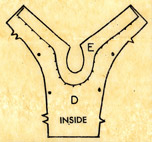 4. Pin and stitch side seams. Turn under armhole edges and slip stitch to form a neat hem. Turn up bottom edge and hem in place with slip stitch:

5. Sew snaps to back edge. Sew tiny buttons over the snaps on the outside edge:

6. COULOTTES sew darts at waist edge and press towards back. Sew center front seam. Sew center back seam to notch (leave open above notch). Clip the curved front and back seams as shown:

7. Sew the leg seams together matching notches. Press open:

8. Hem the bottoms. Finish back opening by rolling under and blind-stitching in place:

9. Pin front and back pleats in place and baste to hold:
10. WAISTBAND Stitch ends of waistband right sides together. Turn to right side. Pin waistband in place and stitch. Turn under the raw edge and stitch in place: