Make Barbie this strapless ballerina outfit with three layers of netting for the skirt and rick-rack or other trim at top edge and at waist. The matching pants have elastic waist.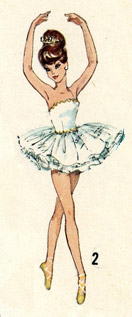 The pattern will print on one page: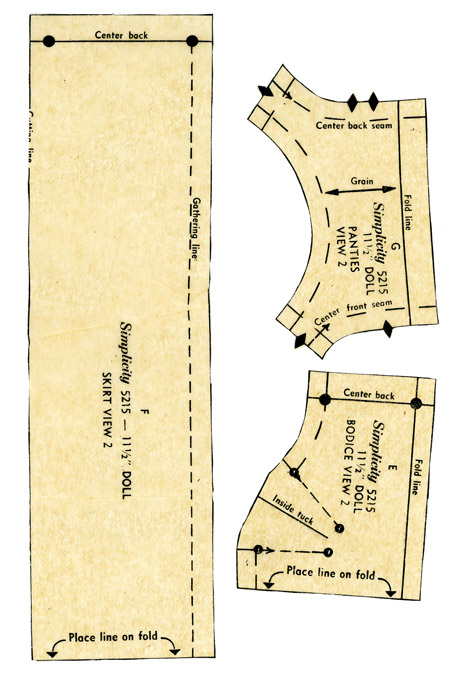 Instructions for saving and printing jpg or pdf files are here.
Pdf file of Barbie's Ballerina Outfit
Instructions for Sewing Barbie's Ballerina Outfit
Cutting Layout for Ballerina Outfit: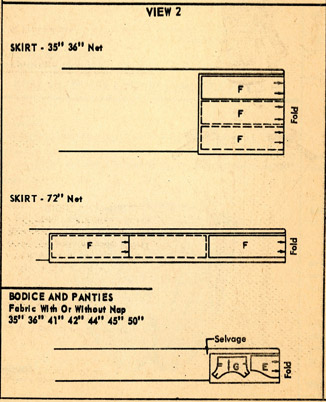 Fabrics: for the skirt use netting. For bodice and panties use cotton and cotton blends such as broadcloth, gingham, seersucker. Silks, synthetics and blends. Taffeta, satin, or brocade.
1. BODICE make tucks. Trim tucks as shown; press toward center front. Press upper edge to inside along fold line; stitch: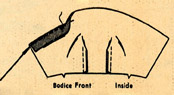 2. SKIRT Gather upper edge of each skirt section separately: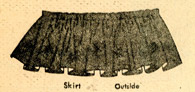 3. Pin one skirt section to bodice, matching centers; adjust gathers to fit; tie thread ends to hold. Unpin.
Pin and adjust gathers of the two remaining skirt sections in the same manner.
Baste skirt sections together along gathered edges, matching centers and having back edges even: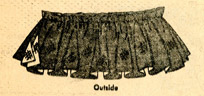 4. JOINING SKIRT TO BODICE With RIGHT sides together, pin skirt to bodice, matching centers. Stitch seam and press up. Turn under entire RIGHT back edge along solid line; stitch RIGHT bodice back only: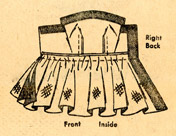 5. RICK-RACK (or other trim) On OUTSIDE, hand-sew rick-rack to bodice, having points along upper finished edge and along waistline seam, turning under ends at RIGHT back edge, as shown: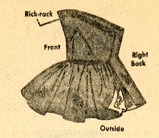 6. FINISHING Lap RIGHT back over LEFT, matching centers. Fasten with 3 small snaps, as shown: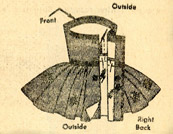 7. PANTIES Join center front seam; clip curves. Stitch under 1/4″ on leg edges, clipping curves.
To form casing, press upper edge to INSIDE along fold line, as shown, Stitch 1/4″ from fold edge: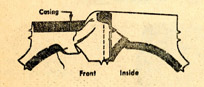 Finish panties: Cut a 3″ piece of 1/8″ elastic and slip it through the waistline casing (using a small safety pin). Sew the back and crotch seams to complete.