Make Barbie this luxurious evening gown and stole. You can decorate the bodice with sequins and tiny beads, or leave the bodice smooth–that will look great too!
The pattern will require three pages to print: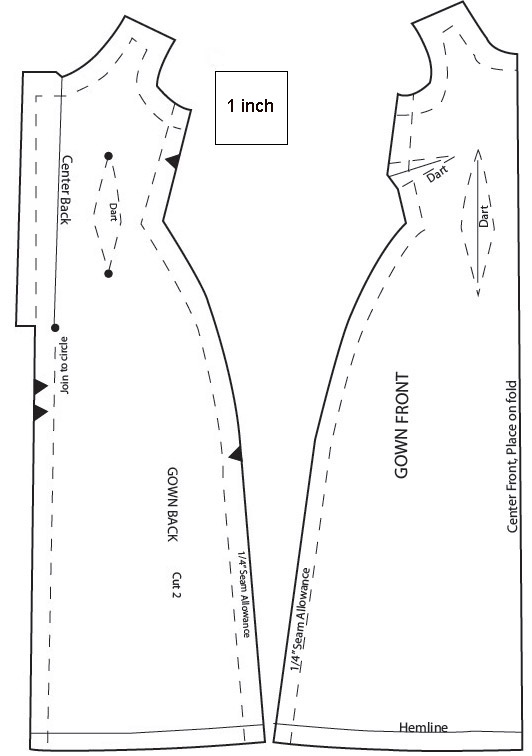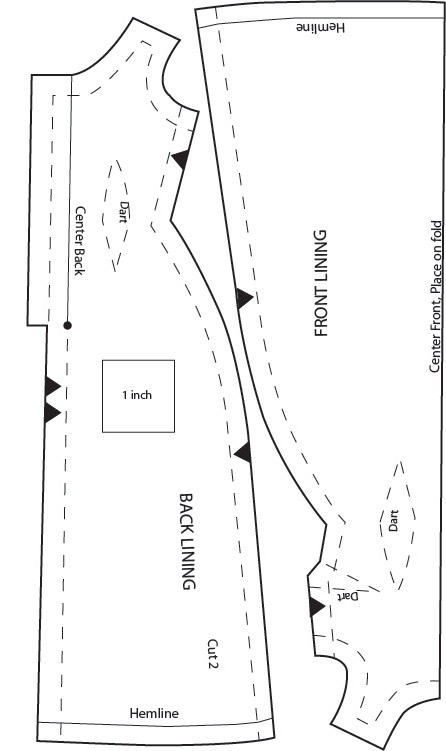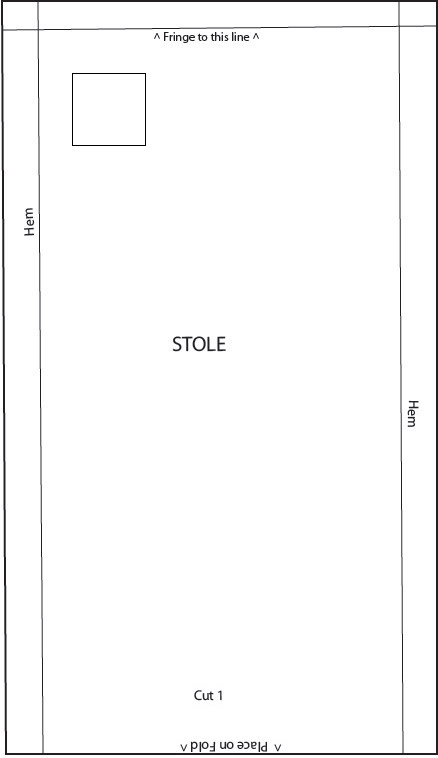 Instructions for saving and printing jpg or pdf files are here.
Pdf file of Barbie's Gown and Stole
Instructions for Sewing Barbie's Gown and Stole
GOWN
TO FINISH UPPER AND BACK EDGES
1. Pin Linings to Front and each BACK, RIGHT SIDES TOGETHER, edges even. Stitch neck, shoulder , armhole, and back opening edges as shown. Trim seams to as scant 1/8″, clip along curves: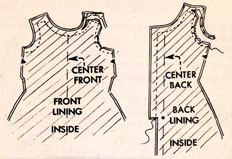 2. Turn Front and backs right side out, press. Baste lining to fabric along raw edges and dart lines. Make DARTS on lining side, folding on solid lines and stitching together along dotted lines. Press underarm darts downward and waistline darts toward centers, clipping folds at waistline:

SEAMS
3. Join underarm seams; clip at waistline, press seams open.
Join center back seam to circle; clip left seam edge to circle, press seam open.
On lining side, whip shoulder edges together firmly: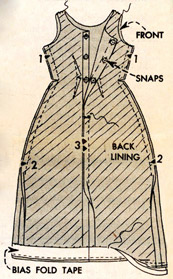 LOWER HEM
Stitch one edge of single fold bias tape a full 1/8″ over lower edge of gown, lapping free end over turned end at center back. Turn hem on line indicated; press; slip stitch free edge of tape flat to gown. See figure 3 above.
BACK CLOSING
Turn under right back on center line. Lap backs, matching centers; fasten with 3 snaps. See figure 3 above.
TRIMMING
4. Sew matching sequins, crystal seed beads and small pearls over front bodice portion:

STOLE
5. Fringe ends by drawing out threads to lines indicated. Turn hems on lines indicated, turn in raw edges 1/4″ and slip stitch to position: