Make Barbie this easy aline dress. Finish it with a tiny bow on the front and in her ponytail if you want!
I made the empire aline out of bright floral print (on Barbie). The other dress on the dress-form is a nice fitting v-neck that I will post the pattern for in the future.
The pattern will print on one page: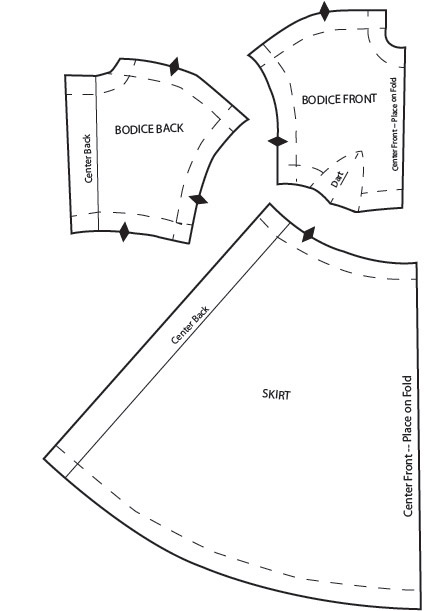 Instructions for saving and printing jpg or pdf files are here.
Pdf file of Barbie's Aline Empire Dress
Instructions for Sewing Barbie's Aline Empire Waist Dress
1. BODICE FRONT AND BACK Make darts in front. Trim and press open. Join Shoulder seams: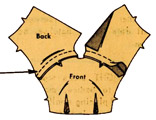 2. Join side seams below small dots as shown. Stitch under 1.4″ on neck and armhole edges, clipping curves:

3. SKIRT Stitch under 1/4″ on lower edge. With right sides together, pin skirt to bodice, matching centers and placing small dots in skirt at side seams of bodice as shown. Stitch seam and press up. Press RIGHT back opening edge of bodice and skirt to INSIDE along solid line; stitch: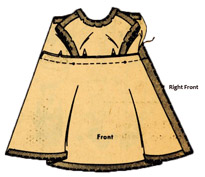 4. FINISHING Press Dress. Lap RIGHT back over LEFT, matching centers. Fasten with four snaps, as shown. Tack ribbon bow to dress front as illustrated if desired: