A stylish easy top and ruffled skirt for Barbie.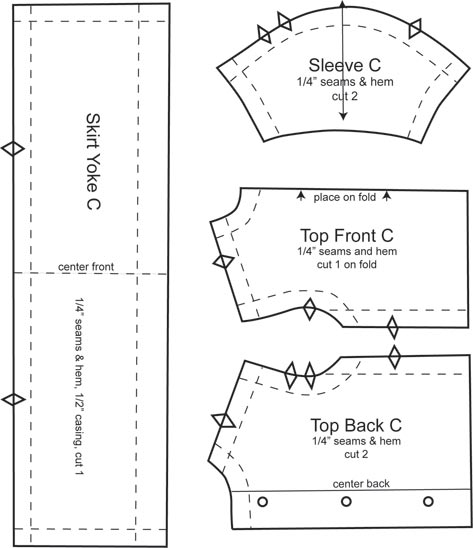 Right click and save the pattern graphic to your desktop (or other location on your computer where it will be easy to find). Right click the graphic and open it with your picture viewer (mine is Windows Picture and Fax Viewer). Print the one page from the viewer.
Or you can download the pdf files of Barbie Top and Skirt Yoke, and Barbie Skirt Ruffle by either clicking on the highlighted link and opening the file on your computer, or right clicking on the highlighted link and Save As to save the file to your computer. Remember where you put it! When you print the pattern in Adobe Acrobat, go to File on the menu, Print, before you print choose Page Scaling: None, so the pattern will stay the correct size.
Instructions for Sewing Barbie's Top and Skirt
TOP INSTRUCTIONS
Note: These instructions show details for Long Sleeved Top H.
1. Stitch TOP FRONT to TOP BACK at shoulders: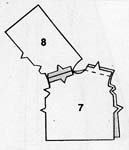 2. To ease SLEEVE, machine baste 1/4″ from raw  edge between notches.
Finish lower edge of sleeve:

3. Pin sleeve to armhole edge, RIGHT SIDES TOGETHER, matching notches and circle to shoulder seam. Baste, adjusting ease to fit. Stitch. Turn seam allowance toward sleeve:

4. Stitch underarm seam, matching notches and cross seams: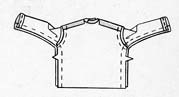 5. Finish neck and lower edge of top:

6. Finish back edges of TOP. Sew three small snaps to back edges:

SKIRT
1. Finish lower edge of RUFFLE. To gather upper edge of ruffle, machine baste 1/4″ and 1/8″ from raw edge: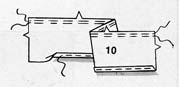 2. Pin ruffle to YOKE RIGHT SIDES TOGETHER, matching notches and center fronts and having back edges even. Pull up bobbin threads and adjust gather to fit.
Press seam allowances upward.
For casing, turn 1/2″ to INSIDE on upper edge. Stitch 1/4″ from fold: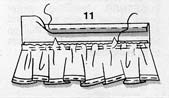 3. Insert a 3″ length of elastic through casing having endes even. Stitch across ends: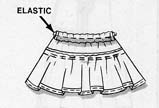 4. Stitch center seam of skirt:

Layout for C Top and Skirt